About Us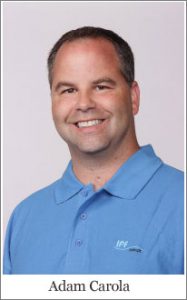 IPF was founded in 1948 to provide plastic fans, scrubbers, dampers and fittings to ventilate harsh, chemical-laden gas streams.
Since then IPF has provided thermoplastic ventilation products to more than 40,000 facilities in North and South America.
Many of our clients have reported 25+ years of high-reliability use of our PVC, PolyPro, and Fiberglass Reinforced Plastic Blowers and related products.
For many years we have had a close working relationship with Colasit AG, the acknowledged leader in design of thermoplastic fans.
I bought the company in 2000. Please call me with any questions you have about price and product selection.
Cordially,
Adam Carola
President IPF LLC
1-800-891-3656 X 32
adamc@ipfcolasit.com